What is Pharming Attack?
Pharming is a form of cyberattack that sends you to a fake website that looks like the real thing. The user will type in a legitimate web address and is redirected to a fake website that resembles the real website.
Once on the fake site hackers will either attempt to gain access to personal/financial information, or they will use the fake site to infect your computer with viruses, malware, or other malicious software.
Sometimes this is done by having you attempt to login or input information. Therefore, be very cautious of where you are entering personal information and make sure that you aren't being deceived.
Follow this link to learn more about cybersecurity and how you can help protect your business.
How To Recognize Pharming Attack?
It's very difficult to recognize pharmed websites. However, there are a few ways that can help you to identify a fake website posing as a legitimate one:
URL
Does the URL look different? Are words misspelled? Is the web address the same as the regular website or is it a variation of the name? Any of these mistakes can mean that you are on a fake site.
HTTP vs HTTPS
Make sure that the site says "https", not just "http". The "s" stands for secure. It's only given when the website is a trusted and secure site.
Design
How does the website look? If this is a site you visit often you will probably be able to notice small changes. Perhaps the sign in button is a different color, or in a different location. Perhaps the images or colors are just a little off. Small differences like that could mean you are on a pharmed website.
If you think that you have found a pharmed website, contact your internet service provider (ISP). Ultimately, it is their job to find, detect, and take down these fake websites. However, with the ever-growing number of cybercriminals, there are bound to be some pharmed websites that will sneak past them.
How to Protect Yourself Against Pharming Attack?
Here are some tactics to help defend yourself against pharming. When it comes to cybersecurity prevention is always better than treatment. You will always save time, money, and energy by putting into place prevention measures and maintaining them rather than cleaning up the mess afterward. The average cyber attack costs small and medium-sized businesses an average of $2,235,000.00. That number is calculated by combining the cost of damages, physical expenses, and lost time. So, if you're like most businesses and don't have $2.3 million lying around to be wasted, you'll want to increase your cyber defense practices.
Use a Trusted Internet Service Provider (ISP)
It's the responsibility of the ISP to prevent and defend against pharmed websites. When it comes to ISP's, there is a wide range of security measures and practices that they employ. Make sure to do your research and use an ISP that has robust security measures and a proven history of security.
Be Aware
Be aware of potential cyber attacks while you are using your computer. Don't visit any suspicious websites, don't download untrusted things from the internet, never open links in emails from people you don't know, and just be smart. Cybercriminals are always attempting to gain access to your personal information, and most of their attempts can be thwarted by being aware and cautious in your internet use.
Security Software
Your strongest tool to defend against pharming, and other cyber attacks, is defense security software. It's essential to have a trusted anti-virus software and a good firewall. There are plenty of options of varying anti-virus software and it's not something you want to skimp on. Additionally, there are other programs and software's that can help to prevent differently cyberattacks. One new tool is Sophos Intercept X. It uses AI to anticipate ransomware and other attacks and predict how and when they'll strike and then stop them.
Use a Safe Browser
Some internet browsers are just better. According to experts, Mozilla Firefox has recently taken the title of best internet browser. They say it's faster and more secure than others. Google Chrome comes in a close second. Having a safe browser can help to prevent attacks from gaining access to your system.
Even when deploying all of these tactics there can still be cyber breaches that can occur. It's important that you are vigilant in your protection and prevention efforts.
Pharming vs Phishing
The idea behind pharming and phishing is the same; deception. Both are forms of cyber attacks that aim to deceive a user into thinking they are looking at something legitimate, but instead it's something fake. Pharming is the act of hackers sending users to fake websites that appear to be legitimate ones. Phishing is the process of sending fake emails that appear to be legitimate ones.
In both, the hacker will create something that looks and behaves in a way that convinces users it's the real thing. From that point, the user hacker will be able to gain personal information from the user in a variety of ways.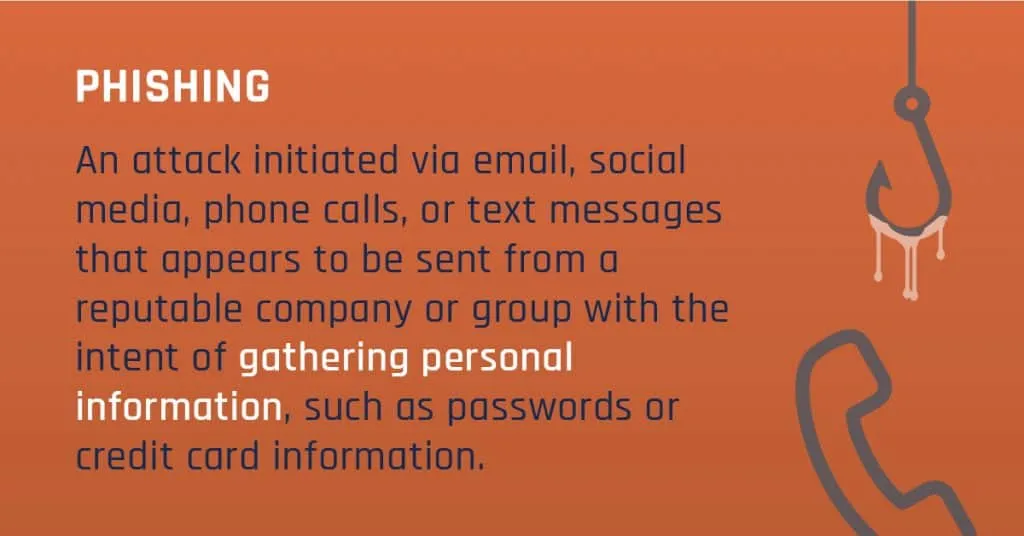 Cybersecurity Help: Executech
Cybersecurity is an essential part of business. As technology progresses, so does the skill and tact of cybercriminals. It's important to consistently update your cyber defense. It's also helpful to frequently consult technical professionals in order to keep your data safe.
Executech has been a leader in cybersecurity for over 20 years. We have a team of over 100 highly skilled technicians who can come on-site to your business and help develop, maintain, and prepare effective cyber defense practices. Our techs can help with every aspect of cybersecurity. We have experts on call who can answer any cyber questions you may have, we can assist in licensing and buying the needed software and equipment, and we can come on-site and implement the needed measures to make and keep your data safe.  41% of US businesses have over 1,000 sensitive files including credit card numbers and health records left unattended.
Learn how to protect your business from pharming attempts with your free business assessment for IT Services in Seattle, IT Support in Spokane, or  Managed IT Services in Utah or Oregon.